How we were Instrumental in the Refurb of Derbyshire Coffee House← Back
Posted 8 Years, 10 Months, 23 Hours, 48 Minutes ago.
Ashbourne is one of Derbyshire's best tourist towns, with a cobbled market place, hidden alleyways and a thriving retail offering, all set in rolling hills on the outskirts of the Peak District.
But the traditional charm of this quaint historical town means it is a particular challenge to create a vibrant, welcoming environment in a new cafe which will appeal to modern tourists, whilst maintaining the ambience of the area.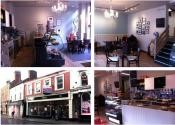 But that's exactly what Chris Froggatt, from the award winning Architectural Building Design Services has managed to do in his recent project to help refurbish this listed building in the centre of town.
We think you'll agree he's achieved the objectives, and this looks like a great addition to the overall offering of Ashbourne.
If you're in the area one weekend, why not pop in and check it out for yourself?
Or if you want Chris's help with a project of your own, give him a call on 07773899597 for a no-obligation chat.