How To Tell If Your House is Victorian or Georgian in Design?← Back
Posted 8 Years, 10 Months, 1 Week, 15 Hours, 10 Minutes ago.
Maybe you want to know more about the history and past of your home, or about the street or area in which you live? Knowing in which period it was built is a great place to start.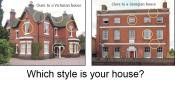 Have a look at the picture above and the lists of clues below to see if you can identify which style your house is...
Clues to a Victorian House:
· Visible slate roofs
· Pillars and bargeboards of carved wood
· Ironwork decoration
· Big gables
· Large-paned sash windows
· Bay windows
· Stained glass in doorways and windows
· Lack of symmetry
Clues to a Georgian House:
· Paired chimneys
· Parapet round the top, hiding the slope of the roof
· Smaller windows near the roof
· Window-panes in multiples of three
· Simple bands of stonework to contrast with the brick
· Symmetrical design
If you want to know any more about the different styles of local houses, or about architecture and design, get in touch with Chris Froggatt of Architectural Building Design Services , who will be able to answer all of your questions and give you loads more information. He is 'the man with the plan'!