What Plans Do You Have For Your House?← Back
Posted 9 Years, 5 Months, 1 Week, 4 Days, 3 Hours, 8 Minutes ago.
Have you and your partner sat down to talk about your plans for the summer?
Maybe your circumstances will change this year with the introduction of a new family member in the form of a baby or elderly relative coming to join your household.
Maybe you have decided to change career and work from home, or maybe you just want some more space in your home like a computer area, a larger kitchen or an additional bedroom.
Chris Froggatt, Managing Director of Architectural Building Design Services answers a common question that reoccurs over and over "Should we move or should we extend our home"?
Architectural Building Design Services have been offering an "Award Winning" architectural service throughout the East Midlands area since the year 2000 and provides a free "no obligation" consultation to anyone thinking of extending their property.
They provide a high standard of customer service and primarily work in the Amber Valley area of Derbyshire including Heanor, Belper, Ripley and Alfreton as well as the larger nearby towns and cities of Nottingham, Derby, Mansfield and Chesterfield.
Chris Froggatt answers a common question about the cost-effectiveness of extending versus moving to a bigger house:
"Our family is expanding – is it more cost-effective to extend our house, or to move to a bigger one?"
Move or improve? It's a difficult question. Many families face this problem after having a baby, when suddenly they need an extra bedroom. Others want to look after an elderly parent, possibly by building a granny annex.
Your decision will partly depend on your personal circumstances. Do you like where you live now? Are your children settled at school? Can you afford a bigger house in your area? Do you have space to build on your current plot?
The cost of moving....
As usual, money is likely to be the most important factor. Moving home isn't just a massive upheaval, it's expensive.

You have to pay estate agency fees, conveyancing charges, removal costs, stamp duty on your new property and possibly arrangement fees on a new mortgage.
They can typically add up to around £10,000 on an average-priced house, though the figure can be much more if you're moving to a dearer-than-average house. Plus, you also have the added cost of mortgage payments on a larger property.
Yet many families do make that move. Six out of ten parents move house as a result of having their first or second child, according to a new survey from HSBC.
Moving from a two-bedroom to a three-bedroom house costs £59,480 on average, while the average cost of moving from a three to a four-bedroom house is a mighty £112,971, the research shows.
Inevitably, the cost varies according to where you live. In London, the average cost of up-scaling to a three-bedroom property is £163,270, compared to just £31,467 in Yorkshire.
So your decision will depend on two main factors – whether you're comfortable you can meet the increased mortgage payments and maintenance costs on a larger property (especially when interest rates rise, as they are bound to do at some point in the future), and whether you can borrow enough money to fund your move.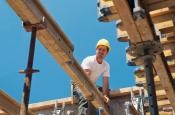 The cost of extending.....
Extending your home costs £21,256 on average (or just £17,500 for a loft conversion), making it a lot cheaper than moving to a bigger place.
The building work could more than pay for itself by adding value to your property, especially if you live in a pricey part of London or the South East.
Just make sure it is done to a high professional standard, and is sympathetic to your current building.
Before making your decision, you need to get a rough idea of what the building work is likely to cost.
If you want to build a large extension on the side of your property, you could easily pay £45,000.
A one-bedroom granny annex with kitchen/living room and shower could cost anything up to £75,000, once you include the foundations, drainage and electrics. Or you could build a simpler annex for around £30,000.
Secure quotes from two or three reputable local builders, but don't part with a penny until you have secured written Planning Permission from your Local Authority. Otherwise you could be ordered to tear down any work you've done, at great cost to you!
You won't always need Planning Permission for an extension or loft conversion – it depends on the size and height of the modifications, whether they affect the front and side elevation of the house, the materials you use and so on.
But you must always find out first. Many local planning departments have drop-in clinics where you can discuss your plans and get a high-level view before making a formal application.
You will almost certainly need planning permission for a separate granny annex. But you will have a much greater chance of success if you are building the annex to house an elderly or disabled relative rather than, say, to rent it out to non-relatives to make a bit of money on the side.
A number of companies specialise in building granny annexes, and they can also advise you how to make a planning application, or even file the application on your behalf.
In England and Wales, granny annexes are typically exempt from council tax. The rules are more complex in Scotland.
Before going ahead with any building work, you may also want to get an opinion from a local estate agent. They will be able to tell you the approximate potential increase in your property's value after any work is done (there is generally a 'ceiling', after which extensions will cease to add value), so you can make an informed decision.
Whether to move or improve is a complex and personal decision. The economic downturn and house price uncertainty may tempt more people to stay put, and build up what they have.
But for many that simply won't be possible. So do your sums carefully to avoid making any false moves.
The logical way forward.....
Architectural Building Design Services have a wide experience helping people decide the best option in regard to whether your home can be extended or not.

A brief visit to your home will usually tell. It is important to see how the extension will impact your neighbours in regard to over-looking or over-shadowing. Providing enough car parking may also be an important factor if you are adding additional bedrooms. Building work to your property can also increase the value of your property and make the property more appealing for future buyers.
The next step would be to contact Chris Froggatt, Managing Director of Architectural Building Design Services on 07773 899 597 or by email at abds@abds.biz.
They have "the man with the plan".