How a Derby Architectural firm is making a great difference in DR Congo, Africa← Back
Posted 9 Years, 5 Months, 2 Weeks, 2 Days, 2 Hours, 31 Minutes ago.
Chris Froggatt, owner of Architectural Building Design Services, is an architectural consultant with a wealth of experience, and not all of it has been gained in the UK.
As well as working on many domestic and commercial buildings up and down the UK, Chris has also spent time over in the Democratic Republic of Congo, working with students and staff at the Architectural University in Kinshasa, the capital city in Central Africa.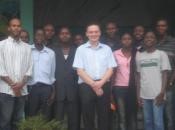 Having seen how lacking the University was in funds and equipment, Chris started a campaign to encourage UK businesses to donate their old computers to the students. In recognition of his efforts, the University made him a Member of the Society of Architects of Congo.As a result, Chris was able to work in the country, and was asked to design several tourism projects as well as the plans for refurbishment of a number of Government buildings.
As you can see from the photos below, the conditions in the Congo are very different to those in the UK, so with skills at the level of Chris's we're sure that he was able to make a real difference to the lives and careers of the students, and that the buildings he designed are leading the way in creating a vision for the future of the country.